Botox® Cosmetic has proven itself to be one of the most popular and effective anti-aging treatments available today. Botox is a temporary nerve blocker which relaxes and weakens over contracted muscles to smooth away lines and wrinkles.
When administered early, in ones late twenties or early thirties, Botox serves to ease dynamic lines – those lines which are visible when making certain facial expressions such as a frown or smile – and prevents wrinkles from forming.
Mature patients and those with deep wrinkles may wish to add the benefits of a cosmetic filler to their treatment to restore plumpness and smooth wrinkled areas.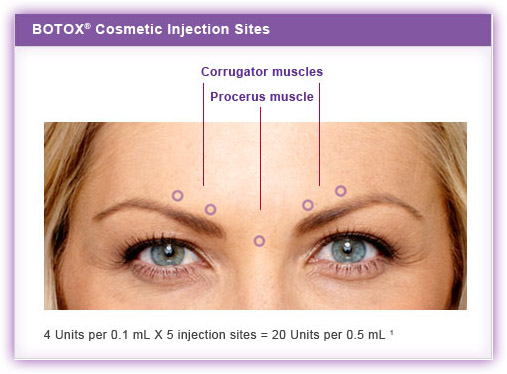 Botox Impressively Improves The Appearance Of:
Frown lines
Vertical furrows between the eyes
Wrinkles on the bridge of the nose
Horizontal lines on the forehead
Crow's feet around the eyes
Lines around the mouth
Bands on the neck
Lines on the chest
Dr. Lederman is one of a handful of dermatologists selected to serve as national trainers for Botox® Cosmetic.
BOTOX® FAQ
What is BOTOX Cosmetic and how does it work?
BOTOX Cosmetic is a prescription medicine that is injected into muscles to temporarily treat moderate to severe frown lines between brows of adults 18-65 years of age. It works by blocking nerve impulses to the injected muscles. This reduces muscle activity that causes those lines to form between the brows.
Why should I consider BOTOX Cosmetic?
Years of squinting, concentrating, or frowning can cause your skin to furrow and crease. As time passes, your skin becomes less elastic and those moderate to severe frown lines between your brows remain.
Will I still be able to make facial expressions?
Although the results are visible, a treatment with BOTOX Cosmetic will not radically change your facial appearance or make you look as if you've "had work done". The muscle activity that causes moderate to severe frown lines between the brows is temporarily reduced, so you can still frown or look surprised without the wrinkles and creases between your brows.
How quickly will I see a difference?
Within 24 to 48 hours you may notice a softening in the appearance of your moderate to severe frown lines between your brows. The area may continue to improve for up to a month.
How long can I expect my results to last?
Results have been shown to last up to 4 months. Your own results may vary. You can speak with your healthcare provider about what you can expect and when to schedule your next appointment.
Is treatment with BOTOX Cosmetic painful?
Discomfort is usually minimal and brief. Prior to injecting, your physician may numb the area with a cold pack or anesthetic cream. The entire procedure takes approximately 10 minutes. Many people are in and out of the physician's office without downtime following BOTOX Cosmetic treatment.
Is BOTOX Cosmetic Affordable?
According to an American Society of Plastic Surgeons survey, the average cost of BOTOX Cosmetic is approximately $400. Ask your physician or HCP for more information as pricing may vary.
Will a treatment with BOTOX Cosmetic affect my skin color?
Men and women of varying ethnicities and skin types have been successfully treated with BOTOX Cosmetic. Because it works only on the underlying muscles, there's no concern of it affecting your skin color or texture.
What are the possible side effects of BOTOX Cosmetic?
Some BOTOX Cosmetic side effects include, dry mouth, discomfort or pain at the injection site, tiredness, headache, neck pain, and eye problems such as double vision, decreased eyesight, drooping eyelids, swelling of the eyelids, and dry eyes.